At a glance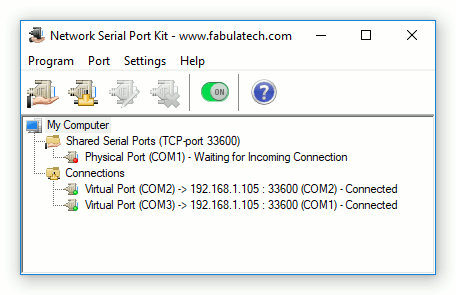 Network Serial Port Kit allows you to work with any serial devices connected to remote computers as if they were connected directly to your PC.
It can make regular serial devices network-enabled allowing to operate remotely devices like GPS-receivers, barcode scanners, modems, sensors, PBX, laboratory equipment and much more.
---
How it works
Using Network Serial Port Kit you can share physical serial port with connected device and then access this device from any other computer over local network or the Internet.
At the same time, virtual serial port is created on computer from which you want to access serial device and it's the exact copy of remote physical serial port with the connected device.
Data are forwarded over the network from physical serial port to virtual serial port and vice versa. An application on local computer works with serial device via virtual serial port not suspecting that the serial device is in another place.
---
Virtual null-modem over network
You can easily use Network Serial Port Kit for creating virtual null-modem connections over the network. In other words, you can connect two communications applications running on different computers by means of virtual null-modem cable over the network.
At that, virtual serial ports are created on both computers and they look like physical serial ports for communications applications. Data written to local virtual serial port are automatically forwarded to remote virtual serial port and vice versa.
---
True emulation of the remote serial port
Virtual serial ports looks exactly as remote physical COM ports. The program fully emulates the COM port internals. Virtual COM ports are accepted by any serial communications applications as hardware ports.
---